Our clinic also treats foreign residents in Japan
We are close to you and offer an easygoing practice where you can consult with us about anything. We also provide mainly general internal medicine and specialized medical care for the cranial nervous system.
We provide outpatient internal medicine services, as well as various medical checkups, cancer checkups, and brain tests.
Philosophy of our clinic
We are trying to create an atmosphere in which people can come to our clinic as if they were casually dropping by. 
  We provide primary care-based internal medicine services.
In addition, we will provide medical care in the field of neurology, drawing on our long experience as a specialist in neurosurgery. 
If you are not sure which medical institution to see, please contact us. 
  We will treat the patient first, but if necessary, we will refer the patient to another clinic or a more advanced
medical facility.
To do so, we are constantly working with other medical institutions. 
We provide a wide range of comprehensive medical services, including Oriental medicine, anti-aging medicine, and aromatherapy. 
In home health care, we support you to live safely and comfortably in your familiar place of residence.
We will do our best to make everyone in the community think that they would be lost without us.
We aim to be a clinic that is needed by everyone. 
Apart from medical treatment, we will work to contribute to society in our local community. 
Message from the Director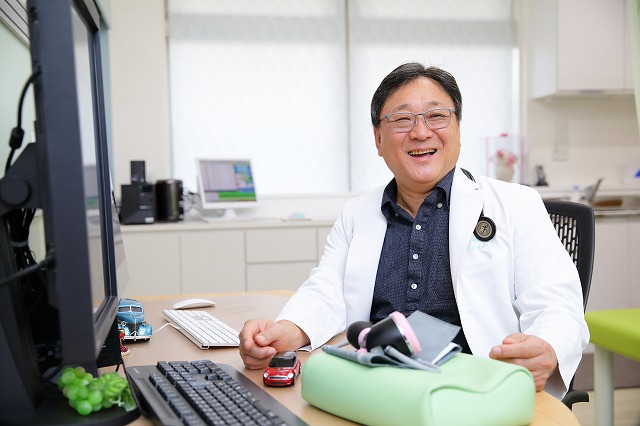 I have been a neurosurgeon for 30 years, performing emergency surgery for stroke, removal of brain tumors, and radiation therapy. With this experience, I will provide a specialized practice to help you with your brain and body related problems and concerns.Currently, I aim to be a trusted home doctor for the community. 
I will listen to you, know your goals, and work to accurately diagnose and treat your condition so that you can get back to your life as soon as possible. 
In addition、not only within the clinic, but also as the chairman of the Machida City Medical Association, I try to contribute to local medical care. 
For First-Time Visitors (About Appointments) 
Download the medical questionnaire, fill it out, and email it to us. We will send you an email back.
E-mail address: yamashita@clinic-yaman.jp
Clinic hours are 9:00 a.m. – 12:00 p.m. and 3:00 p.m. – 6:00 p.m. Appointments are scheduled in 30-minute time slots. Please let us know your preferred date and time. 
Advice for Common Diseases 
lifestyle disease
Lifestyle-related diseases such as hypertension, diabetes, and dyslipidemia progress arteriosclerosis in blood vessels throughout the body, increasing the risk of serious attacks such as stroke or myocardial infarction one day.
In particular, when multiple diseases or metabolic syndrome with obesity are present, arteriosclerosis is likely to progress even if the respective test values are not so bad. 
If lifestyle-related diseases are indicated in health checkups or other medical examinations, it is important to make sure to see a doctor, receive appropriate treatment, and keep the numbers under control. 
We recommend head MRI examinations for those who have lifestyle-related diseases, have blood relatives who have developed cerebrovascular disorders, have been indicated as requiring close examination during physical examinations, or have concerns about the condition of their cerebrovascular system. 
Hypertension
Blood pressure levels are maintained above the normal range, which continues to place a heavy burden on the blood vessels and causes arteriosclerosis to develop. 
Causes include excessive salt intake, obesity, stress, heredity, and aging blood vessels. 
Please do not think that it is okay if it is a little high, but see a doctor as soon as you notice that your blood pressure is high. 
Dyslipidemia (hyperlipidemia)
Dyslipidemia (hyperlipidemia) is a condition in which the amount of bad cholesterol (LDL) and triglycerides (TG) in the blood is high or the amount of good cholesterol is low. 
Lipid components tend to accumulate in blood vessels, leading to progressive arteriosclerosis and increased risk of cerebral infarction, cerebral hemorrhage, subarachnoid hemorrhage, angina pectoris, myocardial infarction, etc.
Dyslipidemia has few subjective symptoms and requires attention 
Diabetes Mellitus
Diabetes mellitus is a disease in which there is an excess of sugar in the blood, resulting in high blood glucose levels. It develops when there is a lack of insulin, which is responsible for maintaining a constant blood sugar level, or when its function is weakened. 
Diabetes not only increases the risk of stroke, cerebral hemorrhage, and subarachnoid hemorrhage by progressing atherosclerosis, but also has a number of complications that can cause serious symptoms such as blindness, kidney failure requiring dialysis, and necrosis of the legs. 
It is important to start appropriate treatment as early as possible and to control the disease well. 
If your health checkup indicates that you need to be re-examined or need closer examination
If you receive a medical checkup that indicates lifestyle-related diseases or metabolic syndrome, or if you are recommended to undergo a reexamination or a detailed examination, it is possible that arteriosclerosis has already progressed. 
For early detection of brain diseases and accurate prevention by knowing the risks, we recommend a detailed examination of brain diseases and cerebrovascular system by MRI scan. 
Machida City Adult Health Examination
Who can take the medical checkup
People who are between 40 and 74 years old and enrolled in Machida City National Health Insurance in the current fiscal year. 
Those who are enrolled in late-stage medical insurance for the elderly. 
Households receiving public assistance who are 40 years old or older in the current fiscal year. 
Beneficiaries of support benefits for Japanese nationals remaining in China who are 40 years old or older in the current fiscal year. 
Those who are between 18 and 39 years old and have a resident registration in Machida City in the current fiscal year, and who have no opportunity to have a medical checkup at school or at work. 
Those who are between 18 and 39 years old and have a resident registration in Machida City in the current fiscal year, and who have no opportunity to have a medical checkup at school or at work. 
inspection fee:500 yen
Items that must be performed
 Medical interview
    Physical Measurement
     Blood pressure measurement
    Urinalysis
    Lipid test
    Blood glucose test
    Liver function test

Additional items at the physician's discretion
    Renal function tests
    Anemia test
    Electrocardiogram
    Fundus examination
    Chest X-ray
Other Medical Checkups
Hepatitis virus screening [Blood test] : Free inspections are available. 
 The screening is available to those who have a certificate of residence in Machida City, have not had a chance to receive a medical checkup at work, are 40 years old or older, and have not received a hepatitis virus checkup in the past. 
Gastric cancer risk screening (ABC screening) [Blood test] :800yen 
The program is open to residents of Machida City who have not had an opportunity to receive a medical checkup at their workplace, who are 35 years old or older, and who have not received a gastric cancer risk screening in the past.
Colorectal cancer screening (age 40 and over) 
Colorectal cancer begins to increase in people in their 40s and is the leading cause of cancer death in women and the second leading cause in men.
In the colorectal cancer screening in Machida City, two days' worth of stool samples are collected and examined. Because colorectal diseases such as cancer and polyps can cause bleeding in the colon, a small amount of blood in the stool is examined.
Colorectal cancer can be detected at an early stage through screening, and if detected early, the cancer can be more likely to be completely removed.
The program is available to residents of Machida City who are 40 years of age or older and who have not had the opportunity to undergo colorectal cancer screening at work or other places. 
lung cancer screening 
Lung cancer tends to be more common in males and begins to increase rapidly around age 60, becoming more common the older a person gets. It is the second most common cancer in men and women combined. 
Lung cancer screening in Machida City is a chest X-ray examination. The entire chest is radiated with X-rays to examine the lungs for shadows suspicious of cancer. 
Lung cancer in its early stages has no subjective symptoms and is rarely detected without medical screening. If detected early, it is a cancer with a high survival rate. 
The screening is available to residents of Machida City who are 40 years of age or older and who have not had a lung cancer screening at their workplace. 
About MRI Examination 
MRI scans use a strong magnet and radio waves to examine conditions inside the body. 
These radio waves, like those used in radios, and the magnetic fields created by the magnets shake the hydrogen atoms in the body. 
By making images of this situation, the state of water and blood flow in the body can be checked in detail.
Since no X-rays are used, there is no risk of radiation exposure and it is safe. It is also useful in detecting various diseases since it can monitor the condition of blood vessels, brain, spine, limbs, joints, etc. 
This test is especially essential to determine the presence of atrophy or tumors in brain tissue and the condition of cerebral blood vessels. 
MRA test
The MRA test is used to delineate blood vessels in the brain and determine the risk of cerebrovascular disease.
The test checks for stenosis or blockage of arteries in the brain from the carotid arteries and detects cerebral aneurysms that can cause subarachnoid hemorrhage. 
Catheterization or other treatment before rupture can prevent serious subarachnoid hemorrhage. It is also useful for early detection of cerebral infarction, cerebral arteriovenous malformation, moyamoya disease, and occlusive arterial lesions. 
Test results will be explained by the director on the day of the test. 
The director, who has built up a long career as a specialist in neurosurgery, explains the results in an easy-to-understand manner on the same day while viewing the test images. 
carotid artery ultrasound 
The carotid artery is an important artery that carries blood to the brain, and atherosclerosis causes the walls of the artery to thicken and the vessel to narrow due to plaque and thrombus. 
If left untreated, this can cause a stroke. 
Tomographic imaging by echography reveals the thickness of blood vessel walls, the condition of the inside of blood vessels, and how blood flows. 
Echocardiography (ultrasound) is a gentle examination that does not expose the patient to radiation. The patient lies on his/her back and an instrument called probe with jelly is applied to the examination site for observation. The examination takes about 15 minutes. 
Access
Gran Heart Machida B-107, 2055-2 Yamasaki-machi, Machida city, Tokyo
By car
The entrance to Gran Heart Machida is located on the left and right side of Yamazaki Danchi 4-14.
Our clinic is located in Gran Heart Machida B (clinic mall).
There is a large parking lot inside Grand Heart.
(山崎団地4-14号棟の左右にグランハート町田への入口があります。
当院はグランハート町田B棟(クリニックモール)にございます。
グランハート内に大型駐車場がございます。)
By Bus
From Machida Station or Kobuchui Station on the JR Yokohama Line
Nearest Bus Stop  8 minutes walk from each bus stop.
Yamazaki Danchi Iriguchi
Yamazaki Danchi Center
Yamazaki Danchi Center
Gran Heart Machida B-107, 2055-2 Yamasaki-machi, Machida city, Tokyo
東京都町田市山崎町2055−2 グランハート町田B−107
Phome:042-794-6327